I was recently asked by someone I know if I make any money from blogging and when I said I didn't they thought it was wasting my time. Their reaction did catch me off guard and I was stuck for words, mainly because I didn't get their logic, but also partly because this I sort of took it personally. I found it sad that the fact that I enjoy tapping away at my keyboard creating posts that I hope people will be able to take something from wasn't enough for this person.
But the whole episode got me thinking about the reasons why I blog. I must admit that I did get a little cross with myself for trying to justify doing something I enjoy, but I'm a bit like that.
Why I blog…
The main reason I blog is because I enjoy it; plain and simple. I like writing and waffling on. Sometimes, especially when something catches my attention, words fill my head…I also see images, so it's a bit like a cartoon sequence. It is usually at these times that the ideas for my posts are borne.
I like the fact that maybe, just maybe, someone out there in the blogosphere will be able to relate to a post that I have written.
Another reason I enjoy blogging is because I can be me. I can write want I like, without conforming to someone else's ideas. I have done some freelance writing in the past, but I couldn't let the words just flow, my writing was robotic because the subjects were just given to me and I couldn't always relate to what I was writing. I like my writing to be able to flow.
Earning Money From My Blog…
Would be great, but it isn't what drives me to blog. If that were the case it would be impossible for me to keep it up as I have never been driven by money and would soon lose interest; although I am not saying that it wouldn't be nice to make some money doing something I enjoy. It would be great!… But I like to be realistic too.
You never know though, in two and a half years time when my hosting fees are due to be paid again, maybe I will have made enough to pay for a year or two! Realists can dream too you know!
I Have Come To The Conclusion…
That there will always be people who mock things they don't understand or 'get'. The person in this instance is driven by money and not personal enjoyment, so will never understand why I blog, just as I will never understand their ability to sit for hours on end not doing a lot.
I will not let other peoples negative opinions on blogging ruin what I enjoy doing. I have 'met' and connected with some really nice people in the blogging world and that in itself rewards for my time spent hunched over my laptop.
As In The Real World…
People vary in the blogging world too.
There are some hugely successful bloggers and there are some successful bloggers; but how is their success measured? Is it measured by monetary value? Or by their readership?
Each and every blogger will have their own ideas of what conveys success when it comes to their blog….When I see someone has read one of my posts and taken the trouble to leave a comment, that to me is success and my blog is far more successful than I ever dreamed it would be. After all there are people who take the time to read what I write and it makes me feel good!
My Advice For That Person Who Questioned Why I Blog…
Would be to find an interest of their own.
Find something they enjoy doing and enjoy doing it. Don't waste time wondering why others do the things they do because unless you find something you enjoy doing you will never understand what drives them.
I feel much better now. I have been itching to write this post since Monday, but just couldn't find the time. Have you come up against people who just don't get why you blog?….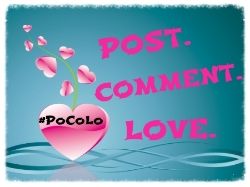 © 2014, Debbie. All rights reserved.
Tagged In...